det finns inget som engagerar folk lika mycket som chokladbollar
---
Pointless Super Powers
Filmkväll nu! Fast mest flumkväll. Jesper och Johan spelar guitar hero, Ostil är spårlöst fösrvunnen och Erika sitter bakom mig och jamar
Sweet child of mine
. Börjar bra!
---
SÅ HÄR HÅRT SKA JAG OCKSÅ FESTA NÅGON GÅNG
---
Patrik-måttet
Följande är en fb-konversation mellan mig och den långe pojken Patrik som på ett konvent när stod och var sig själv fick kommentaren "snygg L-cosplay!" av en random konventare. Påminde honom om det idag och detta är konversationen som följde. Jag tyckte det var lite småroligt i alla fall :D


---
Beautiful Lady
---
E-mails from an asshole
Sebastian påminde mig idag om en SKITROLIG sida jag hittade för länge sen,
E-mails from an asshole
. Det är en kille som kallar sig Mike och svarar på random människors AD:s och beter sig allmänt... konstigt. Det är awesome. Han har helt sjuk fantasi. Här är ett par utdrag:
---
Original ad:
LARGE CRIB WANTED
I need a large(tall) crib for my 9 month old. The crib I have right now is too small - he keeps climbing out! I need a crib that is too high for my baby to get out of it. Please respond with pictures. Contact Julia @ ********@verizon.net


From Me to ********@verizon.net:
Hey Julia,
I may have the perfect crib for you. It is a very large crib that has some features to prevent your baby from escaping. Please let me know if you are interested.
Thanks,
Mike
From Julia ******** to Me:
How big is it? Do you have any pictures of it?
From Me to Julia ********:
Julia,
It is very large. As I said, it has modifications to prevent escape. The entire top perimeter of the crib has been reinforced with a metal frame that is connected to a car battery. When someone tries to escape the crib, they will be given a gentile electric shock, which will discourage them from attempting to climb out of the crib again. The price includes a 12 volt car battery, but a higher-voltage battery can always be purchased, depending on how fat your child is. Here is a picture of the setup: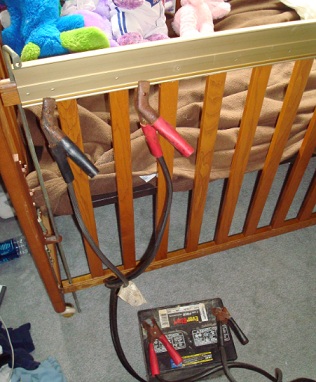 I am currently using the crib for one of my friends who happens to be a midget. He tends to frequently get drunk and violent, so we put him in this crib when he starts getting belligerent. The battery works great for keeping him in, so I am assuming it will work great for your child. The only reason I am getting rid of it is because the midget was recently arrested for arson, so he won't be around for a while.
---
Original ad:
**** Disguisable weapons wanted ****
Wanted: hidden blades, belt buckle knives, cane swords, etc.....
Offering: cash, items for barter
From Me to **********@***********.org:
Hey,
I saw your ad looking for concealable/disguised weapons. I have several fine-crafted items you may be interested in. Respond if you are interested and I will send you pictures and prices.
Thanks,
Mike
From Jeff ****** to Me:
I am. lets see what you got.
From Me to Jeff ******:
Jeff,
Here you go: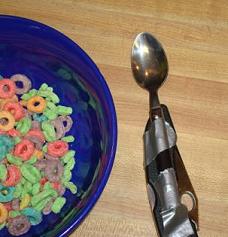 Looks like a normal spoon, right?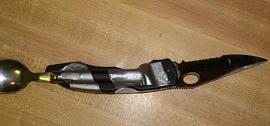 Wrong. It is actually a deadly 2.5" half-smooth, half-serrated knife with tactical grip. One minute you are enjoying a bowl of cereal, and the next you are fighting off attackers with this deadly and disguised weapon.
I am asking $50 for the blade. Let me know if you want to stop by and take a look at it.
Mike
---
Jag vill också hänga med Jack Sparrow i skolan
---
kraftwerk
---
Recept på en Pettson-råttfälla:
4 mjölk/filpaket
1 rör
1 glasbytta
1 pall
1 trälåda och
1 stol

Gillras med förslagsvis
1 chokladkex
1 ostbit och
lite chokladsås som bete.
Detta kanske kräver en förklaring. Det hela började med ett gnagande ljud och en uppfinningsrik mor. Det är nämligen så att vi har tydligen en råtta som håller på och gnager sig igenom väggen ut genom tapeten. Genom ett litet litet hål i tapeten kunde vi för någon timme sen se en lite nos sticka ut, och vi beslöt oss för att vidta åtgärder. Jag yrkade såklart på att fånga och släppa ut råttan, och det här är mors lösning. Säga vad man vill om den kvinnan, men kreativ är hon!
---
I'm not here for your entertainment
... så humorn får HP-filmerna (åter igen) stå för! Tillägnad Erika:
---
natthumor
---
ALL THE DEATH EATERS PUT YOUR WANDS UP
---
waaaa
Hugo ↂ
Vad har vi för läxa på Japanskan btw ?
:)
18:04

Jag

Haha xD ingen aning
18:05

Hugo ↂ

Va inte du där heller ? :)
18:05

Jag

Jag var där en lektion men det är ju länge sen, ofta jag kommer ihåg
18:05

Hugo ↂ

Haha Frida du är så du :)
---
Dear Blank, Please Blank
---
Dear Noah, we could havec sworn you said the ark wasn't leaving till 5. Sincerly, Unicorns
---
coolness, we haz it
Moi: Jag bokar biljetter nu.
Pop: Cool. Jag har några gamla 3D-glajjer liggandes hemma som vi kan ta med!
Moi: Jaha okej är det coolt? Ska man ha det??
Pop: JAA klart man ska ha 3D-glajjer när man ska se awesome mega döds elektro!
Moi: Awesome, jag har ett par med som jag kan ha!
Pop: Det kmr bli ascool!


VI KOMMER VA SÅ HIMLA COOLA! DAMN! *dör av förväntan*
---
"Det kommer bli fett skoj nästa gång det kommer en påminnelse"
Sebastian: "Jag missade min sånglektion idag. Hade ställt in en påminnelse på mobilen, men det enda som hände var att det kom upp en liten ruta som jag missade eftersom det inte lät någonting. Så nu har jag ställt in mobilen på att den ska ringa, vibrera och sprängas i fortsättningen."

---
Yo dawg...
Dagens humor står Xzibit för, brought to you by Yo Dawg
---
WTF!
Såg
The Expendables
igår, och bortsett från att jag var imponerad av att man kunnat göra en 103 minuter lång film om absolut ingenting (fast det fanns en del ögongodis i den måste jag erkänna) var jag totally amazed över att Sylvester Stallone är Iron Mans (R. Downey) orelaterade och 20 år äldre tvillingbror. Liksom kolla ögonen! Ögonbrynen! Näsan! Skägget! Håret! Så lika!
---
JAG FATTAR INTE
Haha världens (dagens) sjukaste grej hände nyss. Loggade in på Sebastians konto på facebook för att ta hand om hans djur på Pet Society när August skrev på facebookchatten och trodde jag var Sebbe. Så jag svarade typ hej jag bara luras, jag är Frida osv och sen skrev någon "JAG FATTAR INTE" fast det stod att det var jag som skrev det. Och DÅ fattade varken August eller jag något heller för det var ingen av oss som skrev det hahah. Visade sig att Sebastian också var inloggad på sitt konto och att det var han som skrev "jag fattar inte". Och det blev helt sjukt för vi skrev en massa annat också och hela konversationen blev ju liksom helt fuckad av att två pers skrev från samma användare och ja. Vi fattade ingenting :D
---